Diplodoster
Type
Water
Price
480 Crystals
Level Unlocked
1
Stats
Speed
1
Min Damage
20
Max Damage
25

Diplodoster is a Water-type Monster in Monster Life.
Gameloft description
Gameloft includes a brief description of Diplodoster on their Monster Life mini site:
| | | |
| --- | --- | --- |
| " | Diplodoster loves to swim. Her favorite thing to do at the pool is go off the high dive, even though the only thing she ever does off of it are big belly flops! She's also a great friend who enjoys planning surprise parties. The only thing she doesn't like is the chaos – and she'll do whatever she can to keep it out of numa! | " |
Combat
Diplodosters can be taken down easily by pilgrimster, an energized diggster can also work. A diplodoster can defeat fire types easily.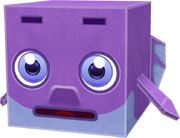 Ad blocker interference detected!
Wikia is a free-to-use site that makes money from advertising. We have a modified experience for viewers using ad blockers

Wikia is not accessible if you've made further modifications. Remove the custom ad blocker rule(s) and the page will load as expected.