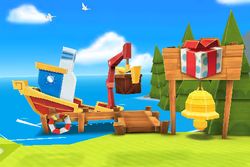 The
Lottery
is a game of chance that is offered to players in
Monster Life
. On every
Ranch
, there is a bell placed next to the
Nursery
. When a player touches the bell and then rings it on the next screen, the Lottery boat arrives and lets the player choose to play one of three categories: Free, Silver, and Gold. Players can play the Free Lottery once everyday to win a prize at no cost.
While there's no limit to the number of times someone can play the Silver and Gold Lotteries, they cost Crystals to play. The Silver Lottery costs 30 Crystals, and the Gold Lottery costs 70 Crystals. Though the price to play is significantly higher for the latter two categories, the prizes are also much more valuable than the ones for the Free Lottery. In particular, Hungerster and Jackaloster can only be collected by winning them in the Silver Lottery and Gold Lottery respectively.
The prizes given out for each of the Lottery categories are random, so there is no telling how many times you would need to play in order to win a particular prize.
Ad blocker interference detected!
Wikia is a free-to-use site that makes money from advertising. We have a modified experience for viewers using ad blockers

Wikia is not accessible if you've made further modifications. Remove the custom ad blocker rule(s) and the page will load as expected.