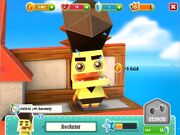 Recharging is a process in which monsters will rest from a battle and recovers his health (unless you pay for an instant recover which costs crystals) the easiest battles will take you less time to recover, meanwhile the hardest battles will take you more time, meanwhile the same occurs to crystals.
Better habitats like the native camp will give you more recuperation discount meanwhile habitats like the lake gives you less recovery time discount
Ad blocker interference detected!
Wikia is a free-to-use site that makes money from advertising. We have a modified experience for viewers using ad blockers

Wikia is not accessible if you've made further modifications. Remove the custom ad blocker rule(s) and the page will load as expected.