Sally is one of the main characters in Monster Life. Her uncle, Handy, is one of the other main characters of the game.
Sally appears to be a girl with ginger hair and green eyes. She wears a pink dress with flowers on it, and maroon-colored shoes. On her head is a yellow and blue flower.
Sally's dad, Franz, went on a journey to defeat the Chaos and has been missing ever since.
Gameplay
When the player first enters the game, she and Handy instructs you on how to play the game.
She helps the player in tasks throughout the game, and you can earn Friend Stones by helping and sending gifts to her.
Known Family
Handy- Uncle
Franz- Father
Gallery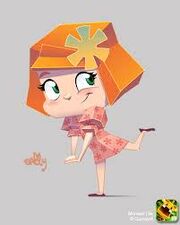 Ad blocker interference detected!
Wikia is a free-to-use site that makes money from advertising. We have a modified experience for viewers using ad blockers

Wikia is not accessible if you've made further modifications. Remove the custom ad blocker rule(s) and the page will load as expected.